"Because of their limited capacity for self-regulation and susceptibility to peer pressure, children and adolescents are at some risk as they navigate and experiment with social media." – The Impact of Social Media on Children, Adolescents, and Families
For the purpose of this week's post, we are talking about social media and whether or not it is ruining childhood. The need to make that clear is important because the conversation around social media can often lead into one about technology as a whole and they are most certainly two different things.
I'll start right off the hop by telling you I do not agree that social media is ruining childhood but I do believe there are things that society, schools and families are doing or not doing with social media that are ruining childhood for today's youth. I do know that kids will be kids and there are certain things we can't control but that can be said about anything, not just social media!
"…social media has given us a way not only to speak out, but to educate ourselves and expand our minds in a way that is unprecedented." – A Generation Zer's Take on the Social Media Age
We could lump society, schools and parents into one conversation but I think there are things that can be done, separately on all three levels to show kids just how powerful and positive social media can be, as opposed to just the negative.
Society…
Wouldn't it be great if our society decided to care a little less about things like the tide pod challenge, the lives of celebrities, who is wearing what and spending a little more time encouraging people to share about their real, everyday lives? Also, what if we made the decision to judge others a little less and celebrate a little more? I really think we would start to see the positives side of social media if we decide to stop saying things like, "their food posts are so annoying", "why do they post about beachbody so often", "I can't stand all their baby pictures" or "no one cares about your workout".
What happens if that one post, shared by that one person, was the one positive thing they were able to find in their day and here we are, tearing them down for it?
Schools…
When I think about my job as a teacher and what I want my students to be able to walk away from my classroom being able to do, I think about preparing them for life outside of school, beyond their time in the K-12 education system. Some might argue that social media should not play a role in schools because it adds no value to a child's education… I disagree. If we are preparing kids to be critical consumers, people who can work collaboratively with others and individuals who will create opportunities for themselves then I think social media needs to be part of their education. I am not saying it needs to be everything, it shouldn't, but if we are not teaching students how to navigate social media appropriately, how are they going to manage the pressures one can feel from social media in their everyday lives?
If we bring social media into our classrooms, we allow students to explore this world in an environment that is safe, controlled and monitored. Now, this certainly looks different in different grades and the conversation changes when it comes to students with their own devices. However, when we look at modelling appropriate use through classroom accounts, we have an opportunity to show students the positive side of social media. As my classmate Shelly mentions this week, we are in Uncharted Territory and need to ask a few questions before we decide to accept or negate social media's impact on childhood today. As always, there will be things that come up that aren't all about the positive but those are real-world examples and most importantly, teachable moments!
When Eric Meyers, an expert on youth online behaviour weighed in on the recent tide pod challenge he pointed out that social media is in fact just a tool and not the reason for the challenge itself.
"It's not that social media is compelling young people to do this," Meyers said. "Social media is simply a tool by which they can do this and gain gratification by other people. So it amplifies some of the effects of young people's natural tendency towards risk but it's not the actual cause of risky behaviour."

While risk is a natural part of adolescence, Meyer said parents and school officials can play a role in talking with teens about balancing risk with acceptance – but the effectiveness of the message is in the delivery.

Instead of telling them "no," which can often "be like the forbidden fruit" scenario, Meyers said, talking with the kid about why they're feeling they need to take part can lead to a deeper discussion about decision making and online behaviours." Taken from B.C. expert weighs in on why kids are eating Tide pods for fun by Ashley Wadhwani
We need to find a way to bring schools and families together to help build an understanding of how youth are using social media. As educators, we have an understanding of brain development and how youth make decisions. We understand this in different ways than families, who tend to know more about how kids are making decisions based on peer influences. Bringing these two realms of understanding together can show our kids that we understand the pressures placed on them by social media and we want to work with them to help them understand and make decisions.
Families…
Every kid is different and their ability to make decisions on their own varies greatly. Honouring the terms of use set out by social media sites, monitoring sites/apps used, having set 'no tech' times and open lines of communication are just a few things I would suggest for creating positive experiences for youth on social media. A tweet shared by St. Alphonsus' RC Primary School in Middlesbrough, England offers  a guide for parents wanting to talk to their kids about social media use: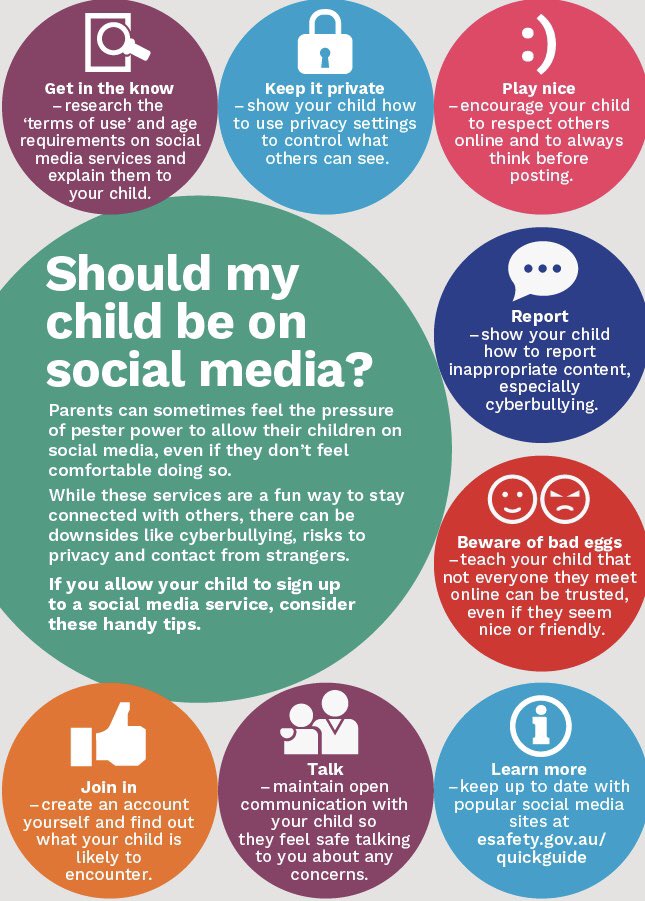 Social media harnesses a lot of power, how we look at it and interact with it, determines the power that it takes.