Who can use Snapchat?
No person under 13 can create an account or use the Snapchat services in US. If a person is under 13, consent of parents/guardian is necessary. It is advised that parents should also review the terms carefully and by accepting the agreement. Here are some of the tips for parents and kids.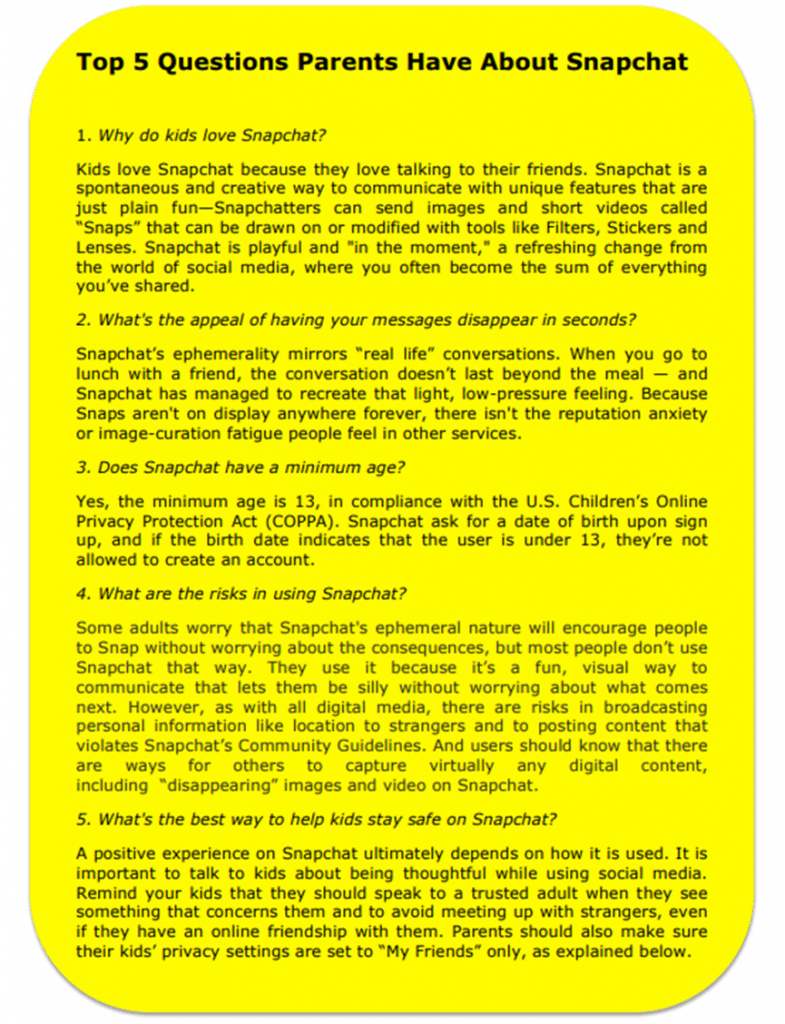 First of all always manage your setting in "Privacy Settings" menu. The default setting is "My Friends" which allows to share your pictures or snaps with friends only. So, you have to add the users to the friends list if your setting is "My Friends". Guide your kids to be extra careful while sharing their pictures and their personal information like contact details, home address, or financial information. Being parents always remind your kids to never share anything which is illegal and can bring them in trouble.  Keep the passwords unique and strong. Moreover, both Android and IOS offers parental control feature for mobile. Always manage your child's phone and the usage. Guide your kids to keep real friends rather than adding random people in their friend list. As per Snapchat guidelines, bullying is not tolerated on the platform of Snapchat.
Harassment and Unwanted Snaps
If you find that your child is getting unwanted abusive Snaps, always tell your child to block the person. Blocking helps to prevent someone from sending their pictures or streaks. You can report the abuse by going on the option "report abuse". As a parent it is important to help the kids to think critically and chose what is right for them. Teach them time management, privacy and safety in order to engage online.
BLOOKET
Blooket is a game based learning tools that is run on the web browser. This application claims that it is concerned for the protection of privacy of all the users. Moreover, in the Privacy Policy page of Blooket it is mentioned that they collect the personal information like email, name that identifies you personally and can share this information in accordance with their Privacy Policy. It is advised that being a teacher or student read the privacy policy carefully as Booklet says to review your personal information before sharing. Also, it takes the responsibility to protect your data under EU-US and Swiss-US Privacy Shield Frameworks. Blooket does not track the users over time or through any third pary. It claims that it do not respond to DNT signals. In addition to, as a teacher, you pledge the Blooket that your school or institution has obtained the written consent of children to share the data of students. In case of any issues one can report their complaints within 30 days.
FACEBOOK/INSTAGRAM
Facebook and Instagram shares similar privacy policies as they are now Meta. Instagram allows to create an account when you are 13 or above years of age. It says that it do not claim the ownership of your content but it gives you the license to use it. When we share any data like photos or videos, we grant a non-inclusive, royalty-free, and world-wide licence to use, distribute, and display the content. Moreover, we give the permission to Instagram to show our username, pictures, relationship status when accept the terms and services of Instagram. Moreover, if someone wants to delete their account it begins no more than 30 days after the request. Instagram says that it may take up to 90 days to delete the content after the process of deletion begins. It is advised that read all the privacy policies carefully before clicking on "I Agree" option.