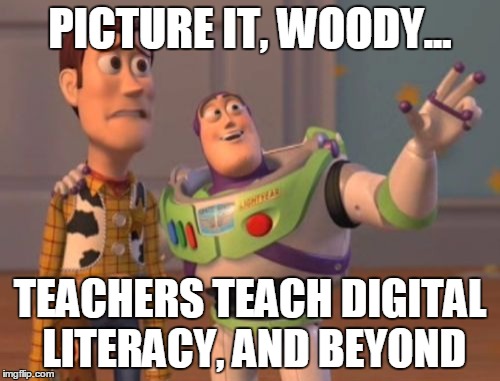 Wow! I learned so much from my EC&I832 classmates this week on media literacy. This topic fits well with an earlier debate in our class about the concept of digital natives. For further discussion on this topic, click here.
Generation Z which includes those born anywhere from the mid-90s to early 2000s. This crew is often lumped together under the title of Digital Natives. The concept of Digital Natives is frequently contested because it operates under the assumption that simply being born in that era somehow magically grants those young people with the "innate" gift of using, manipulating, and understanding technology. This is a BIG assumption to make. Children of Generation Z are part of a generation that won't recall a time when the Internet did not exist. True. They are part of a generation with the most ground-breaking technological advancements. True. Although, so was every other generation before them at one point in time. They have technology at their fingertips and have been exposed to technology or portrayed on social media likely before they were even born. But does all this make them skilled users of the technology that is placed in their hands at increasingly younger ages? No.
I imagine that when the telephone was invented, the youth of that generation were using it more frequently. I imagine the same thing happened when the automobile was invented and frankly with all other major technological advances as well. It only makes sense that the younger people of this generation are quickly acquiring skills to be computer literate because they have been exposed to digitization for their entire lives.
But, as my classmate Dani points out in her vlog, digital literacy and computer literacy are not the same thing. She claims, it is not enough to be able to work with the programs (computer literacy) but that digital literacy requires critical thinking, awareness of behavioural standards (eg. Ribble's Netiquette) and understanding of the social issues created by technology.
Most of the content catalysts this week first discussed the definition of literacy which is the ability to read and write or to have understanding in a specific field of knowledge. When we think about learning to read, kids need to be able to decode words, use clues to interpret meaning, understand the author's purpose, among a variety of other skills. These too, apply to the relatively new concept of media literacy. As my classmate Nina describes in her vlog, media literacy helps students understand how words produce meaning and in turn, how people interpret these words which allows them to organize and construct their reality.
[By the way, media literacy seems like it should be a topic for the younger generation but I think it is just as important for my generation and people older than me to learn about digital citizenship and media literacy too. This learning is relevant for all ages! For the Generation X group to learn about it because most people in Gen X were teenagers and young adults when social media truly came onto the scene in the general public. Because it was so new, there wasn't teachers and adults to help the Gen X crew navigate this new type of media.]
Ok, so what is digital or media literacy then? Well, Mike Ribble defines it in the following way:
This video also describes that while we are increasingly using media as a source of learning and information gathering, few people understand how it affects us and our society:
Media literacy is about the intersection of skepticism (as Erin explains in her vlog) and the act of deconstruction (shout out to philosopher Jacques Derrida on this one!) which meanings critically analyzing the relationship between the text itself (whatever media that may be) and the message (received, perceived and often replicated in some way) by the consumer of the media. Erin talked about the first line of defense in media literacy is a person who thinks before they click and that thinking comes from questioning.
In Media Literacy in the 21st Century, the presenter claims that media is hypnotizing; it is a construction and creatively and methodically captures our attention (in positive and negative ways). Teaching kids about their digital world through media literacy has the power to break that hypnosis. My classmate Jacque, warns in her vlog about "filter bubbles" which are personalized algorithms that allow the media you see to be curated to what the algorithm "thinks" you want to see. In Beware of Online "Filter Bubbles", Eli Pariser suggests that algorithms are beginning to be the "gatekeepers" of our individual worlds and the problem is that they don't have the same kind of human ethics or empathy that are required to do the job they do.


In his vlog, my classmate Luke discusses an important quote. This quote is by Alvin Toddler who said "movers and shakes will not be those who can read and write but those who can learn, unlearn and relearn". In a weird coincidence, on the same day I was watching his vlog, I was also scrolling through some old tweets and this Tweet popped up from 2012 (great minds think alike!).
The definition of literacy is constantly changing and teachers need to be at the forefront of that change. Teachers need to be the movers and shakers for their students. To guide teachers, Luke brought up was a list of questions to use when critically examining media (other catalysts from this week brought up similar questions):
Who created this message?
What creative techniques were used to grab my attention? (how did they hypnotize me?)
How will different people understand this message based on worldview (empathy for minority perspectives)? (We have to do what the algorithms cannot which is use empathy to evaluate media).
What lifestyles, values, points of view are included or emitted in the message? (searching for the story that isn't being told as much as examining what is being told)
Why is this message being sent?
In school, we are taught to critically analyze in the same way with books and other print media. We need to do the same with digital media. This is part of our changing role as educators.
Do you use these questions personally? Do you use them in your classroom? How do you integrate this teaching into your daily practice?
To conclude, I'd like to share two important messages heard during the content catalyst presentations/readings this week. First is a quote that Luke put in his vlog: "Today's media allows the most hateful and most beautiful voices to be heard like never before". Media literacy is about sifting through those voices in personally and collectively meaningful ways. Finally, in Parisers Beware of Online "Filter Bubbles", he suggests "We need the Internet to be that thing that we all dreamed of it being. We need it to connect us all together. We need it to introduce us to new ideas and new people and different perspectives". Media literacy allows us to use the Internet for the power of good, in the way we all dream it to be.